The race to rescue those trapped in the rubble continues, more than 24 hours after a powerful earthquake struck off Mexico's southern coast.
The 8.1 magnitude quake left at least 61 people dead, according to officials.
Another 200 people were injured, President Enrique Peña Nieto said, as he declared a national day of mourning.
Meanwhile, the feared category one Hurricane Katia, which struck Veracruz on the east coast on Saturday, has been downgraded to a tropical storm.
The US National Hurricane Center reported Katia had been rapidly weakening ever since making landfall, but local officials are worried the storm could still cause landslides and flooding.
Rescue efforts following the earthquake, which struck late on Thursday, are focussing on the worst-hit states of Tabasco, Oaxaca and Chiapas.
Tens of thousands of emergency packs, as well as 100 extra police officers and rescue dogs were sent to Juchitán, Oaxaca, said to be the worst affected town.
The earthquake is the most powerful anywhere in the world since September 2015, but its depth – 70km according to the US Geological Service – means that the shaking felt at the surface was less strong than it would have been for an equally powerful but shallower tremor.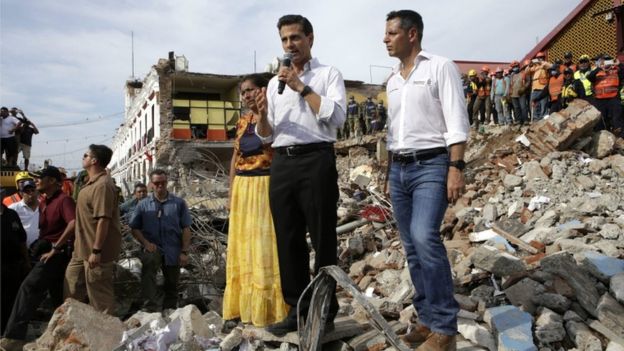 "The situation is Juchitán is critical; this is the most terrible moment in its history," said Mayor Gloria Sanchez.
Police officer Vidal Vera, 29, who had not slept in more than 36 hours, told AFP: "I can't remember an earthquake this terrible.
"The whole city is a disaster zone right now. Lots of damage. Lots of deaths. I don't know how you can make sense of it. It's hard. My sister-in-law's husband died. His house fell on top of him."
Mr Peña Nieto, who visited the town on Friday, said flags would fly at half-mast on Saturday out of respect for the dead and bereaved.
The president said 45 deaths had been reported in Oaxaca, 12 in Chiapas and four in Tabasco.
The BBC's Arturo Wallace says the affected region is the poorest and least developed part of Mexico and the full extent of the damage is yet to become clear.
At least one other person was killed in Guatemala, its president has said.
The huge quake struck at 23:50 local time on Thursday (04:50 GMT Friday), shaking buildings and causing panic hundreds of miles away in the capital, Mexico City.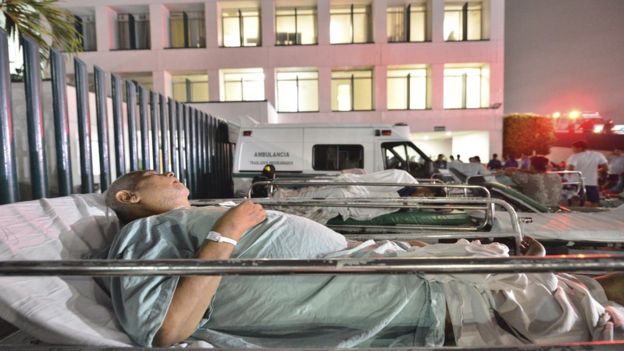 The earthquake also triggered a tsunami warning and the evacuation of thousands of people in coastal communities in Chiapas. The warning was later lifted.
Throughout Friday, the region was shaken with scores of aftershocks.
President Peña Nieto's office said he would travel to Chiapas to survey the damage.
Pope Francis, addressing an open air Mass on a visit to Colombia, said he was praying "for those who have lost their lives and their families".
The earthquake was more powerful than the 1985 tremor which hit close to Mexico City and caused thousands of deaths. Correspondents say the death toll appears to have been lower because it struck further away from highly populated areas.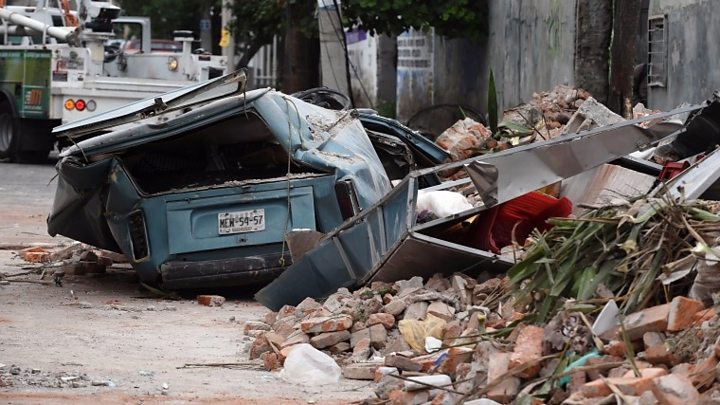 Journalist Franc Contreras, who was in Mexico City, told the BBC: "You could hear loud cracks in the concrete. It sounded like a giant wooden branch being just broken open violently.
"People were streaming out of the hallways. And everybody walking out single file into the streets, trying to avoid overhead power lines."
Inevitable tremors
This is the biggest quake experienced anywhere in 2017. Going on the statistics, you would expect at least one magnitude eight to occur somewhere on the planet each year.
It occurred where the Pacific ocean floor is drawn under Mexico and Guatemala. A great slab of rock, known as the Cocos tectonic plate, is driving towards the coast at a rate of 75mm per year. As it jerks downwards into the Earth's interior, about 200km offshore, large tremors are the inevitable outcome.
There have been three magnitude sevens in 2017, with a 7.9 recorded deep under Papua New Guinea back in January. This latest event, being an 8.2, is nearly three times as energetic. That tells you something about how the magnitude scale works.
Fortunately, this event was deep, too. The rupture, which will have ripped across more than 100km of fault line, was down at 70km. That will have limited some of the shaking, but as we've seen there is still extensive damage.