US Secretary of State Rex Tillerson says Myanmar's military action against the minority Muslim Rohingya population constitutes ethnic cleansing.
He said the Rohingya had suffered "horrendous atrocities" and as a result the US was considering targeted sanctions against those responsible.
In September, UN human rights chief Zeid Raad Al Hussein also accused Myanmar of ethnic cleansing.
Mr Tillerson's comments come days before a visit to Myanmar by the Pope.
The Rohingya are a stateless minority who have long experienced persecution in Myanmar, also known as Burma. More than 600,000 have fled to neighbouring Bangladesh since violence erupted in Rakhine state late in August.
"After a careful and thorough analysis of available facts, it is clear that the situation in northern Rakhine state constitutes ethnic cleansing against the Rohingya," Mr Tillerson said in a statement.
"These abuses by some among the Burmese military, security forces, and local vigilantes have caused tremendous suffering and forced hundreds of thousands of men, women, and children to flee their homes in Burma to seek refuge in Bangladesh," he said.
He said the US wanted an independent investigation into events in Rakhine state and targeted sanctions could follow.
"Those responsible for these atrocities must be held accountable," he added.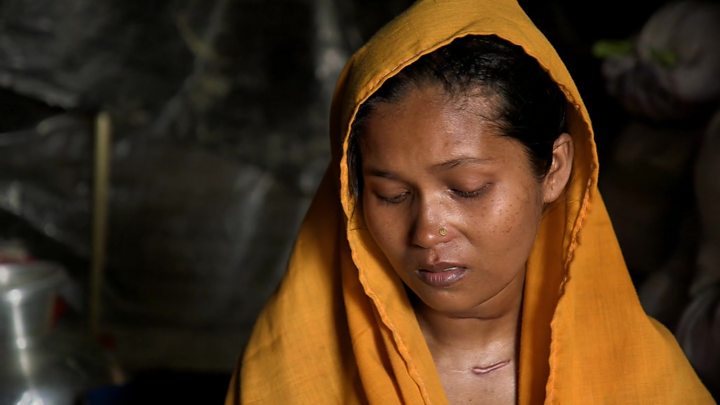 Mr Tillerson's comments reflect a hardening US stance on Myanmar in recent days. On a one-day visit to the country last week he said Washington was "deeply concerned" by reports of widespread atrocities.
He urged the government and security forces to respect the human rights of all those within its borders.

US builds pressure on Myanmar
Analysis by Barbara Plett Usher, US state department correspondent
The designation comes after careful analysis by the State Department, which determined that there was 'intent and planning' behind the 'horrendous atrocities.' Hence Rex Tillerson included the Myanmar military among the parties listed as directly involved.
A senior state department official said the term ethnic cleansing is not defined in international or US law and therefore doesn't inherently imply consequences, but the US is considering targeted sanctions against those responsible.
In the meantime, another senior official said the designation was aimed at increasing pressure on Mynamar authorities to repatriate the Rohingya refugees and make it safe for them to return.
The US has sought to balance its desire to hold the military accountable with its support for the civilian government, led by Aung San Suu Kyi.
The State Department official said a successful transition to civilian rule is crucial to resolving the long-running ethnic conflicts at the root of the latest violence. (Ms Suu Kyi has been criticized for a weak response, but the official said she had no control over the military in their power sharing arrangement, and that she'd have to work with the generals to address the crisis).

The tougher US rhetoric comes after a delegation, led by Senator Jeff Merkley, recently returned from a visit to Myanmar and Bangladesh.
Members of the delegation said they were disturbed by the reports of attacks on Rohingya, including the rape and murder of family members.
The BBC has also heard numerous first-hand reports from refugees of killings, rape and even massacres. Inside Rakhine state itself, witnessed burned out homes and a Muslim village being set on fire.
Despite widespread accusations of human rights violations, Myanmar has consistently denied persecuting its Rohingya minority.
Earlier this month, the Myanmar army released the results of an internal investigation in which it exonerated itself of blame for the crisis.
It said "terrorists" from within the Rohingya community (which it called Bengali) were responsible for burning houses and that those who fled did so because they feared those terrorists.
Amnesty International dismissed the report as an attempted "whitewash".