An ex-Welsh Labour minister who faced a party investigation into allegations about his personal conduct has taken his own life, it is understood.
Carl Sargeant, 49, lost his job as cabinet secretary for communities and children last Friday.
He was suspended from Labour after the first minister learned of a number of alleged incidents involving women.
A family statement said they were "devastated beyond words" at the loss of "the glue that bound us together".
Labour leader Jeremy Corbyn said the death was "deeply shocking news".
Mr Sargeant, who was married and had two children, was found dead at his home in Connah's Quay, Flintshire, on Tuesday morning.
He was sacked from his Welsh Government job after allegations about his behaviour were passed to First Minister Carwyn Jones's office.
Mr Jones had said on Monday he felt he had no choice but to refer the matter to the party. Mr Sargeant had vowed to clear his name.
The Welsh Assembly's business for Tuesday was cancelled as a mark of respect following his death, and meetings on Wednesday and Thursday will also not take place.
In a statement Mr Sargeant's family said: "Carl was a much loved husband, father and friend.
"He wasn't simply a part of our family. He was the glue that bound us together.
"He was the most kind and caring husband, father, son and friend. We are devastated beyond words, and we know our grief will be shared by all those who knew and loved him."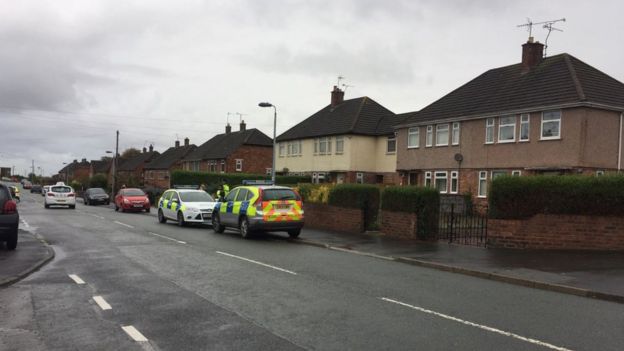 Analysis by Vaughan Roderick
The Senedd, in the wake of the death of former Welsh Government minister Carl Sargeant, is a place in shock.
I do not remember an atmosphere anything like this.
There is, among some senior Labour figures, a growing sense of concern and anger at the process where the government or the Labour Party appear not to have exercised their duty of care over Mr Sargeant after he faced accusations about his behaviour.
There are people who spoke to Mr Sargeant on Tuesday morning who were told that he still did not know what the allegations were.
Carwyn Jones's future could be on the line here. This is a trauma that could become a political crisis unless he comes up with the answers that Labour AMs in particular want to hear.
Paying tribute, the first minister said: "Carl was a friend as well as a colleague and I am shocked and deeply saddened by his death.
"He made a big contribution to Welsh public life and fought tirelessly for those he represented both as a minister and as a local assembly member."
The prime minister's spokesman said in relation to the "sad news" about the death of Carl Sargeant, that Theresa May's "heart goes out to Carl Sargeant's friends and family".
Mr Corbyn said the AM was "somebody who represented our party" and "worked hard to represent his communities".
The Labour leader said that all allegations must be examined and pursued but added: "There must also be great pastoral care and support given to everybody involved in these accusations, and also that we deal with them, all parties, as quickly as possible."
Speaking through tears, former local government minister Leighton Andrews told Radio Wales: "Carl Sargeant was loved. He was loved across the political divide. He was loved by the people in his own community.
"Carl was a unique politician. He arrived in the assembly from the factory floor. He grew up and still lived in the council estate that helped shape his roots in Connah's Quay – he was still very much part of that community.